I have always had an empathy for peoples' problems and an interest in helping them to find solutions.

I trained at the prestigious Clifton Practice, a recognised centre of excellence for Hypnotherapy. I hold the Hypnotherapy Practitioners Diploma which is considered the 'Gold Standard' in Hypnotherapy training.

I am a member of the N.C.H. (National Council for Hypnotherapy).

For me, there is nothing as rewarding as seeing people from all walks of life free themselves from deep-rooted issues they have often felt burdened with for many years and then fulfil their potential. S.F.H. changes people's lives in a way that empowers them and puts them back in control. It is indeed wonderful to see them stepping forward with positive expectations and confidently saying it is the right place to be, the right channel, the right "radio station" for healings of any kind.

My clients come from all walks of life and are of all ages with a variety of issues. I specialise  in Anxiety related issues and Work related stress as well as P.T.S.D. (Post-Traumatic Stress Disorder) and Inner Child work.

I have an excellent success rate in helping people achieve their goals, whether in their personal or in their professional lives.

A large number of my clients come as a result of referrals from satisfied clients.

My aim is to always collaborate with clients and help them to get back on the "driving seat", trusting every single moment to unfold for their highest good and becoming aware of the numerous inner resources they can tap into.

Originally from France, I offer hypnotherapy both in English and in French and so language ought not to be a barrier for French speakers with little or limited knowledge of the English language.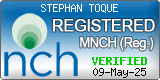 I have contributed a number of articles published on the Hypnotherapy Directory:
Also see this interesting
BBC video on managing stress

.
See also my article on
Demystifying hypnotherapy